Teacher: Model of the old Allegany High "just part" of a large exhibition | Local News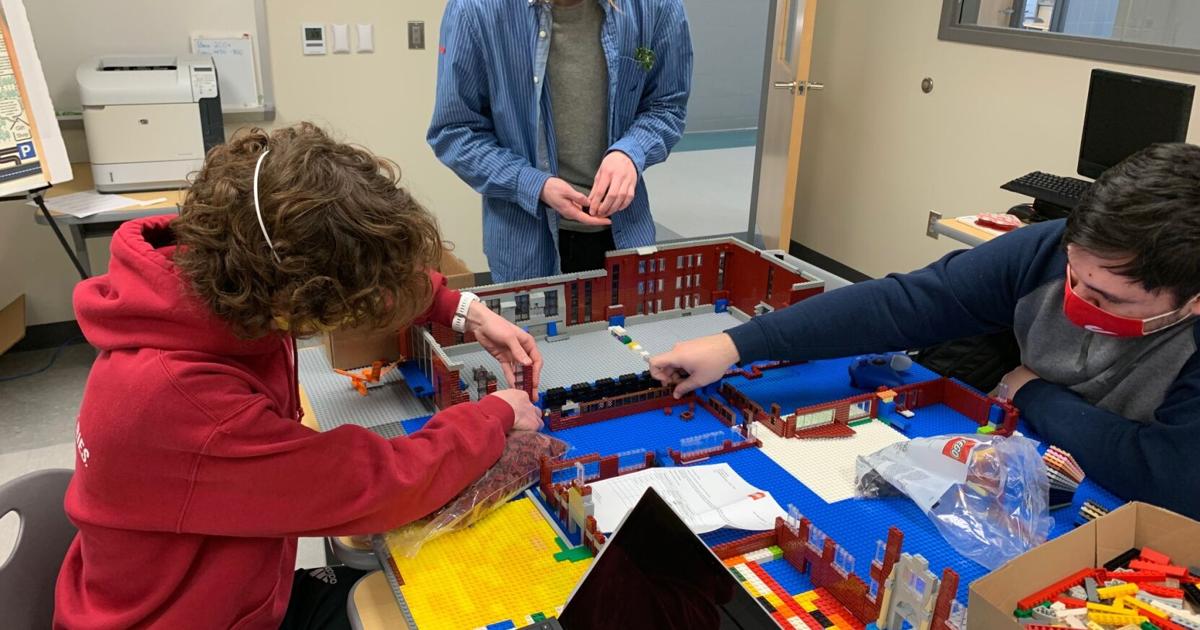 CUMBERLAND — As a student-turned-teacher at the old Allegany High School, Brian White has a long history with the old building.
Work began May 3 to raze the old structure, which opened on Sedgwick Street to students in 1926 and remained in use until a new school opened on Haystack Mountain in 2018.
In the 1980s, White attended classes in the Old Building, where he began teaching in the 1990s.
"This building has given us a lot of love and nourishment," he said. "But…we definitely needed a new facility."
Today, White works at the new Allegany High School where he teaches a historical research methods class that works to document events that happened at the old school.
Their exhibit, "Allegany: The American High School Experience," will be on view at the Allegany Museum, 3 Pershing St. in Cumberland, July 2-30.
The event will also include a "Fade to Blue" exhibit by local photographer Michael Hunter Thompson, who graduated from Allegany High School in 1999.
"So many generations in this community have passed through this building," White said.
The museum exhibit will showcase the school's history from 1888 to the present day and will include a replica of the site of the old Sedgwick Street High School created entirely out of Legos.
White said the mini-school building is made up of around 35,000 Lego blocks built primarily by three of the school's students.
To start the Lego model, Allegany High School senior Drake Rose used a photograph of the old building to create a 3D image through the Minecraft video game.
"It's an accurate scale representation," White said. "Every window, every door is in our room."
While some of the building blocks for the project were specially commissioned, many used for the model's infrastructure came from people in the community, White said.
"We got donations from people of Legos that they just had at home," he said.
"The Legos are just one part of the exhibit in which a total of 10 students developed display boards, made several quilts from t-shirts, created an original video, and developed displays for the exhibit" , White said of aspects of the school including sports, band and drama across the decades. "There are so many moving parts to this."
Artifacts on display include a 1940s letter sweater, old photographs, student newspapers and videos of the band's past performances.
"There will be lots of models with different sports and group uniforms," he said.
"We get very excited," White said of the exhibit. "I think a lot of people are going to be very surprised."
As an educator, the project marks "the quintessential best feeling you can have," White said of watching students document the history of the old building. "It's a beautiful thing to see as a teacher."
Daniel Gregory, a student in the HRM class, said the project gave him a better understanding and appreciation for his school, which is also an integral part of the community.
"In this I was able to develop my research skills and understanding of architectural style and construction while building the LEGO interpretation of the Sedgwick Street School," Gregory said via email. "Although unexpected in a historical course, my application of engineering and appreciation of project details was not only enjoyable but effective in deepening my skills."
Phoebe Puffenbarger, who was also in the HRM class, said the project was a great experience.
"I wanted a career in art and design ever since I was first asked why I wanted to go to college," she said over email. as a career that only cemented my enjoyment of being an artist. I'm really proud to be part of this project coming out of my senior year.
Learn more at alleganymuseum.org.