Sawalich takes first career Pro Late Model victory at Carteret County Speedway | Sports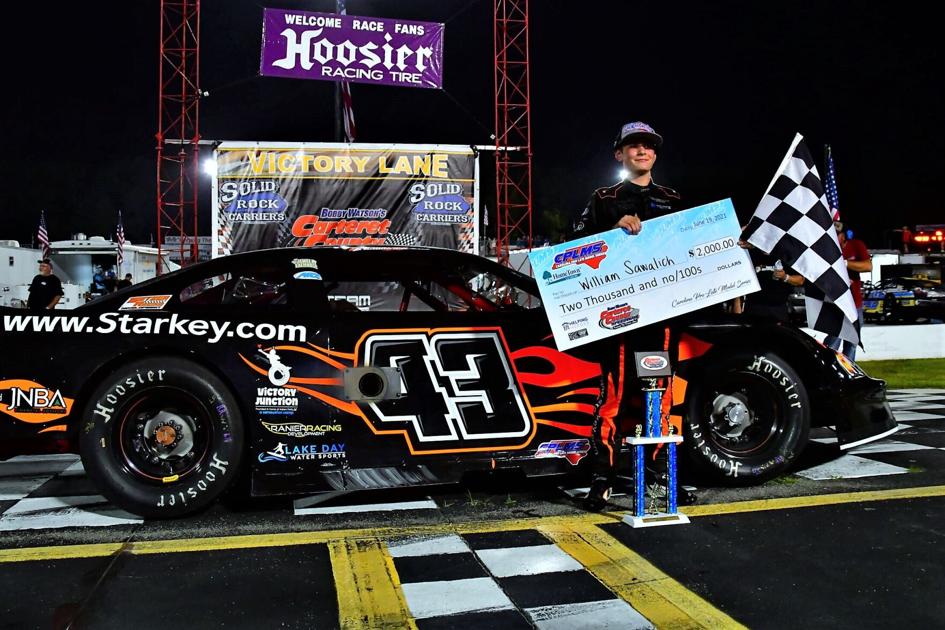 SHOVEL – William Sawalich dominated on June 19, earning his first career victory in the Carolina Pro Late Model Series race at Carteret County Speedway.
After dropping to fourth in the first lap, due to a blockage on the outside line early in the race, it only took 35 laps for Sawalich to come close and pass Josh Lowder for the lead. It ended up being for victory as the race went largely uneventful until the final laps when Nick Loden and Sarah Cornett-Ching got tangled up.
"It means so much to win, and I can't thank my team enough for all the hard work they do," Sawalich said on the win row. "Thanks to CPLMS for organizing this show. It was an explosion. I'm so excited. We're gonna party all night long.
Lowder settled for a second place after leading laps early in the race.
"It's a whole new car that we have. This is our third race on this circuit, "said Lowder. "We're still finding out, we're getting better every weekend with it. It was good. We were good, Sawalich was really good. Congratulations to this team. I know they earned it. They worked hard for it.
Leland Honeyman, who was the fastest qualifier, made his way to third after starting a little further in the field after a reverse. Mike Speeney and Tovia Grynewicz round out the top five.
Kevin Orlando ended up winning the Carolina Crate Modified Series, taking the lead from Jeremy Gerstner with just nine laps to go. The victory was Orlando's third on the tour of the season.
"We struggled all day yesterday trying to get the car exactly where I wanted it," said Orlando. "These guys were successful today. The car couldn't have been better. It was very fun. I love running with Jeremy and these guys. They run hard. I didn't think we were going to have it, but we're done with it. I can't thank these guys enough.
Orlando said after the race he would likely end up competing in the SMART Modified Tour race at Carteret County Speedway in September – something runner-up Jeremy Gerstner plans to do as well.
"We were just too tight," Gerstner said. "I knew Kevin Orlando, he's a hell of a driver, and he gets behind the wheel and I knew I was going to be more cowardly. These cars have less horsepower than the passenger car we will be using later this year. You're going to see a hell of a show later this year.
Rob Schultz made his way to third place after overtaking Cody Norman on the outside line in the final laps.
"This place has an exterior," Schultz said. "I've been saying it all day. It was very fun."
Dean Lowder settled for fourth place, while Cody Norman finished fifth.
The other winners were Mike Cooper (Street Stock), Shane Irving (Legends), Steve Sullivan (U-CAR), Ricky Heigl, Sr. (Bomber) and Adam Mattice (Jr. Mini Cup).
Here are the full results:
Carolina Pro Late Model Series
1. William Sawalich
2. Josh Lowder
3. Leland Honeyman
4. Mike Speeney
5. Tovia Grynewicz
6. Nick Loden
7. Josh Van Winkle
8. Penn Crim
9. Sarah Cornett Ching
10. Jerick Johnson
11. Jake Courage
12. EJ Tamayo
13. Michael Gaier
Carolina Crate modified series
1. Kevin Orlando
2. Jeremy Gerstner
3. Rob Schultz
4. Dean Lowder
5. Cody Norman
6. Dan Speeney
7. Richard Kilmarchuk
Street stock
1. Mike Cooper
2. Tyler Smith
3. Dennis Woehrle
4. Brandon Manning
5. Matthew Gurganus
Inex Legends
1. Shane Irving
2. Singular chase
3. Chris Smith
4. DJ Murphy
5. Scotty Benford
6. Carsyn Gillikin
7. Roy Combs
8. Brenton Irving
9. Chris Burns
U-CAR
1. Steve Sullivan
2. Curtis Lanier
3. Ricky Houser, Jr.
4. Abby Jolly
5. Dustin Jolly
6. Zac Reimer
Bombardier Invida FN
1. Ricky Heigl, Sr.
2. Joey Vereen
3. Ricky Heigl, Jr.
4. Logan McCallister
5. Andrew Warner
6. Brandon Robinson
7. Duane Walker
8. Victoria Dawson
9. Joe Lazaczyk
10. Trace Raynor
11. Nick Goffman
12. Tyler Foster
Mini Coupe Jr.
1. Adam Mattice
2. Summer Sullivan
3. Alexis Steffan
4. Mylah Provost