Obituary for Monday, September 20, 2021 | Obituary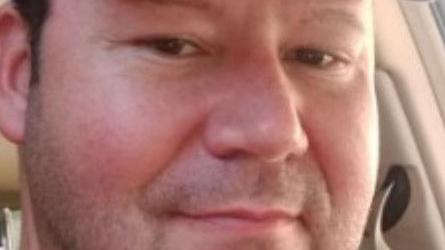 Rodney Lee Crowder, Our 48 year old son, brother and beloved friend of Greenback, TN, passed away on September 13, 2021. He was born on August 8, 1973 in Louisville, KY. He was a graduate of Pellissippi State. He attended the University of Tennessee and enjoyed learning more about aviation and studying law. Rodney was generous by nature and often helped anyone or any animal in need. He often liked to surprise his mother or sisters with little things and stop for a surprise visit. He loved his family and he was loved so much and will forever be in our hearts and be missed beyond measure. Rodney is predeceased by his father Claude Lee Crowder, his nephews Michael Estes, Ryan Knight and his niece Erica Estes. He is survived by his mother, Mary Sue Crowder; sisters: Lisa Crowder, Susan Knight (Rick), Cathy Gartin, Carol Castaneda (Art); nieces Kara Knight, Catrina Gartin, nephews Chesley Gartin, Maddox Williams and Grayson Knight. A private service will take place on Wednesday September 22, 2021, at Cremation by Grandview.
Patricia Kelley Duncan, 74, de Walland died on September 15, 2021. She was predeceased by her parents: Bill Kelley and Mae Williams. She is survived by her son; Anthony Duncan, sister and brother-in-law: Leesa and Steve McGill, granddaughter: Bella, nephews: Matthew and Michael McGill, and great-nieces. A Celebration of Life will be held on Tuesday, September 21 at 5:30 p.m. at Keeble Chapel with Reverend John Whitehead as officiant. Condolences can be presented by visiting www.maryvillememorialfuneralhome.com
Harrison Arthur "Art" Jackson, at the age of 76, of Maryville, Tennessee, passed away peacefully in his sleep at home on Monday, September 13, 2021. He is predeceased by his beloved son Michael "Mike" Jackson, his father and his mother Robert S Jackson and Mamie L Jackson Paine, sisters Barbara Jackson Sister and Jennie Jackson Fagg, and brother Vernon Jackson. He is survived by his son Steve Jackson (Monique), his daughter Teresa Jackson Morton (David), his ex-wife Carolyn Jackson, his grandsons Shane and Chase Jackson, his granddaughters Elizabeth and Emily Morton and Macy Jackson, and her special friend Kay Carter and her dog Gabby. . Art is also survived by many beloved nieces and nephews as well as many longtime friends and colleagues. A 1962 graduate of Everett High School, Art has had a long career in the hardware industry. He started his career selling hardware for Belknap Hardware, and soon after bought a stake in a hardware store in Rock Springs, Georgia, where he ran the business for a short time. Art recently enjoyed a 45-year career as a salesperson for House Hasson Hardware, where he won multiple Million Dollar Sales awards. Art retired from House Hasson Hardware in January 2018. Even after his retirement, he remained in close contact with many of his clients. Art will be remembered as a man who loved his family with all his heart and would do anything to help his neighbor. He was a dedicated father who worked tirelessly to provide for his family. He had a compassionate heart and strong faith and was a member of Springview Baptist Church. He loved spending time with his family and always looked forward to the annual Labor Day gathering at his cabin on the lake. Art was most fond of supporting and helping his family and although he enjoyed joking and teasing family members, he was also the first to arrive with a hug in grief or a helping hand in grief. needed and never parted without a hug and a "love you". The family will receive friends from 5 p.m. to 7 p.m. at Smith Mortuary (Trinity Chapel) on Monday, September 20, 2021, followed by a memorial service at 7 p.m. Pastor Ben Ward of Springview Baptist Church will serve at the memorial service Monday evening, and the funeral service at 11 a.m. on Tuesday, September 21, 2021 at Grandview Cemetery. Art had recently joined the Springview Blessing Box committee providing food for the community, so the family is requesting that any commemorative contributions on behalf of Art be made to the Blessing Box Ministry at Springview Baptist Church, 4220 US Highway 411 South Maryville, TN 37801 Smith Funeral & Cremation Service, Maryville, 865-983-1000, www.SmithFuneralandCremation.com
Billy Ray Nuchols Sr. at the age of 88, of Maryville, passed away peacefully at home on September 18, 2021. He was born in Maryville, TN, and attended Maryville High School until called into the army his second year. He proudly served his county in the United States Army during the Korean War and received his honorable discharge in 1955. He enjoyed Maryville High School Football, Tennessee Vols, Atlanta Braves, and Nascar. His parents, Andy and Margaret Nuchols, his wife Della Mae Nuchols, his grandsons Derek Nuchols and Buddy Wilburn, his great-great-grandson Jonah Simerely and his faithful dog Peanut, predeceased Bill in death. He is survived by his daughter Linda McGeorge, his sons Bo (Susan) and Ronnie (Dorie) Nuchols, and his daughter Sharon Holman. His brothers Ed, JD, Bob and David (Tammy) Nuchols and his sisters Helen Goins and Shirley Long. Grandchildren Candy (Michael) Fagg, Tonya (Brian) Wilburn, Chelsey (Tanner) Caylor, Matthew (Heather) Thompson, Alisha (Matthew) Huling, Bridget (Michael) Long, Rondalyn (Jason) Chaussey, Justin (Stephanie) Holman and Ronnie Holman Jr. and twenty great-grandchildren and six great-great-grandchildren and his faithful friends Debbie Lauderdale and Chris Dewitt. A celebration of Billy's life will be held on Tuesday, September 21, 2021 at 7 p.m. at the McCammon-Ammons-Click Funeral Home with Pastor Bob Nuchols as officiant. The family will receive friends from 5:00 p.m. to 7:00 p.m. The procession will take place on Wednesday, September 22, 2021 at 9:00 a.m. from McCammon-Ammons-Click to Russell Cemetery for the funeral service with Pastor JD Nuchols officiating. Special thanks to Blount Hospice, Julie George, Heather Davis and Barrett Loope. www.mccammonammonsclick.com
Minnie Jean Thompson Phillips, at the age of 75, de Maryville passed away on Saturday September 18, 2021. Preceded in the passing of her husband, Willie D. (Danny) Phillips, parents and other family members. Surviving sons and daughters-in-law, Brian and Kristi L. Phillips, Marty and Beth Phillips, Richie and Kristi S. Phillips; grandchildren, Aaron and Kayle Phillips, Noah Phillips, Bryson Phillips, Summer Smith, Landon Bledsoe, CJ Tarwater, AJ Tarwater, Logan Morton and Matt Carver; great-grandchildren, Sadie Phillips, Emma Phillips, Kelli Phillips, Jacob Phillips, Mathis Galyon, Venus Smith, Elizabeth Tarwater, Faith Tarwater; sister-in-law, Sally Lambert; brother-in-law and sister-in-law, Ernie and Mary Phillips, Faye Riden, JoAnn Thompson, Wayne and Sharon Phillips; longtime friend, Patsy Hall. I love you boys, grandchildren more than anything in the world. As far as my boys and grandchildren are concerned, I have been truly blessed. I have also been blessed by my Heavenly Father, by being saved by the wonderful grace of God and by receiving God as my Lord and Savior, I have eternal life. Just think for the first time since I was 14, I'm with my mom and my husband. Funeral and burial service at 2 p.m. on Wednesday, September 22, 2021 at Shady Grove Cemetery, Reverend Tyson McKeehan officiating. The family will receive friends from 5:00 p.m. to 8:00 p.m. Tuesday at Miller Funeral Home, Maryville.www.millerfuneralhome.org
Bennett Leroy Purkey, 80 years old, from Maryville, passed away September 18, 2021. Bennett Leroy Purkey, 80 years old from Louisville, passed away on Saturday September 18, 2021. He is survived by his children, Charles "Tootie" Purkey, Soletha "Tia" Gilbert "Tim Lentz "and Roma Lee Latham" John Burchfield ", 12 grandchildren, Danny Latham, Freddie Latham, Sydney Latham" Derick Kelley "Lyndsey Latham, Kenzie Sudman" Logan Morton ", Kassidy Sudman" Vincent Hughes ", Jerika Sudman" Brandon Ledford ", Jacquelyn Sudman, Scott Sudman III, Stone Sudman, Kelsey & Bodie Burkhalter" and Kristin McMurray. 10 great-grandchildren, Bo Kelley, Holley Mingie, Akiralynn Latham, Peyton Latham-Harris, Lily Burkhalter, Mason Brown, Neveah Burkhalter, Kinley Burkhalter, Nova Burkhalter and Ryder Hughes and 3 loving sisters, Wilma Simerly, Regina & Tommy Anderson and Teresa Locklear and several nieces and nephews he loved dearly and his longtime best friend, Jimmy Weaver. We will have a funeral service; family and friends will gather at the Louisville cemetery on September 21 at 2 p.m. for funeral services at the cemetery.
Sue Clabough Wright, daughter of Susie Ledbetter and Charlie Clabough passed away on Friday, September 17, 2021, peacefully in her sleep. She was the 3rd oldest of her 11 siblings and the oldest living. She was born on October 26, 1930 in White Oak Sinks. Sue became interested in healthcare as a young girl after hearing the stories of how her grandmother, Lurana Shields Ledbetter, helped women in Cove give birth. She was a registered nurse for almost 50 years and loved taking care of people. His passion was to help babies enter this world. Her hobbies included sewing, crochet and quilting. She loved her family and was a wonderful mother to her children and a faithful and loving wife. Preceded in death by her husband David K. Wright; parents, Charlie and Susie Clabough; sister, Ann Brickey; brothers, James and Carl Clabough; granddaughter, Rebekah Wright. Survivors include his sons, David Wright (Song) and Charles E. Wright (Deborah); daughters, Jacqueline Flanagin (Roger) and Jennifer Wright; seven grandchildren; 17 great-grandchildren; two brothers and four sisters. Friends can call at their convenience on Monday, September 20, 2021 from 9 a.m. to 7 p.m. at the funeral home. Family and friends will reunite at 3 p.m. on Tuesday, September 21, 2021 at the Grandview Cemetery Pavilion. Smith Funeral and Cremation Service, 983-1000, www.SmithFuneralandCremation.com