Model Train Enthusiast Donates Collection to Local Club | Local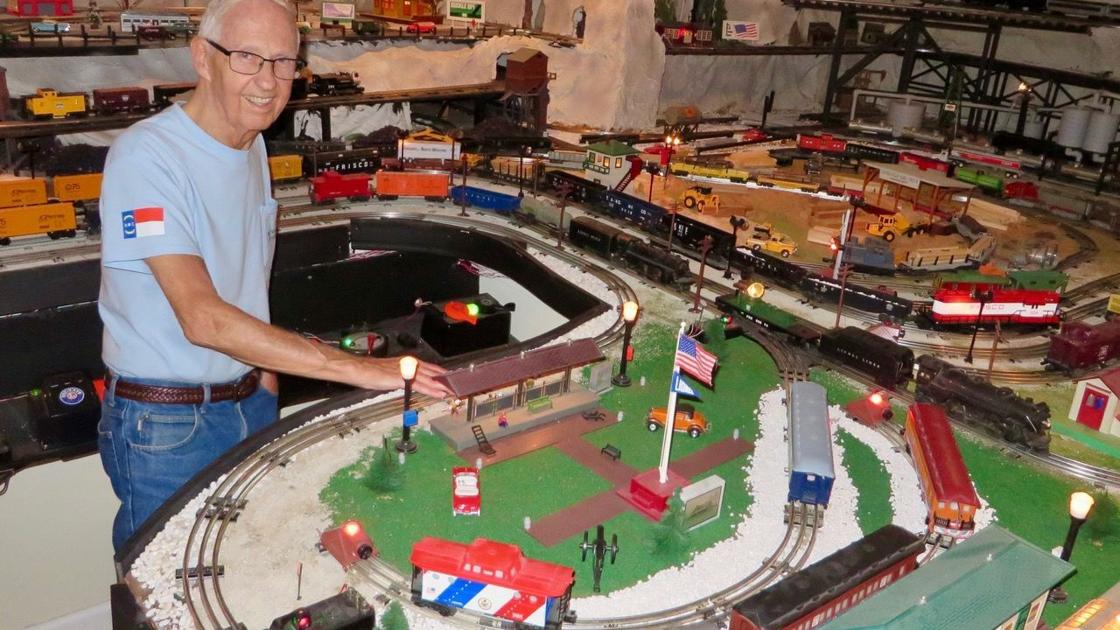 In 1947-48, Don Hurst was making money mowing lawns with his new Maytag Kickstart Rotary.
At the time, model trains were the flagship item of the Swan / Winans hardware store on Second Street in his hometown. So he used some of the money to buy his first train: a Lionel locomotive, a tender, three cars and a passenger car. It was the beginning.
Fast forward 74 and Hurst has an incredible Lionel train layout in his spare bedroom, displaying trains and related accessories collected over the years.
The current layout began to take shape when Hurst moved to Albemarle Plantation in 2001.
Its hidden treasure consists of an astonishing range of Lionel O gauge trains with six control boxes, assorted accessories, a multitude of lights and other fascinating details like display panels, an oil rig, a lumber yard and playground.
The layout is a multi-level complex with fantastic detail in every corner, a curved branch, and through siding.
Hurst, however, felt it was time to move on. He was concerned that if he didn't find a good place for the trains, his arrangement could be sold, separated, or end up in boxes in someone's attic. And never run again.
He asked his children and grandchildren if any of them wanted to be the proud owners of the train project. Unfortunately, they weren't interested. Model trains aren't the hot items they once were.
Enter the Albemarle Railroad Club, a regional non-profit organization serving model railroaders and their associated activities. The club were very interested in Hurst's layout.
Operating out of Parker Station, its new headquarters in Elizabeth City, the ARC promotes model railroading as a recognized hobby through organized model train operations, continuing education, training and developing the skills of its members. The ARC is a chapter of the National Model Railroad Association and works with the Norfolk & Southern Railway Historical Society to present the history of railroads in northeastern North Carolina.
David Rigby is a resident of Albemarle Plantation and spokesperson for the ARC.
"The importance of Don's gift to the Train Club cannot be overstated," Rigby said. "He gives the Albemarle Railroad Club at least a hundred wagons, a dozen locomotives – some considered antiques – over 100 feet of track, and a wide variety of unique buildings and structures. The club did not have an O gauge layout. Thanks to Don's generosity, ARC will now have first-class operation.
Rigby continued, "Don, is a master hobbyist and a perfectionist – it shows in every aspect of his layout. Since purchasing his first Lionel motor, Don has pursued his hobby with remarkable passion, and the CRA will respect and care for its impressive collection.
"Those of us with thinning gray hair will always remember our first Lionel train, usually found around the Christmas tree," added Rigby.
Brian Loss, the club's superintendent, called Hurst's gift extraordinary.
"Sir. Hurst's gift is a unique opportunity for our modest nonprofit organization," he said. "First the Parker family helped the club build a building, and now thanks at Mr. Hurst's donation, we will have a significant O-gauge provision to tap into. "
Hurst sees his donation as an opportunity to keep the layout intact and showcase it for future generations to enjoy. Although trains departing from his home are difficult to observe, he is happy to share his passion for model trains with a group that will keep his collection of 74-year-old trains running with massive display for people of all ages to enjoy at Parker Station.
Parker Station is located in a red building near Central Elementary School at 1051 US Highway 17 South, Elizabeth City. The Albemarle Train Club is looking for new members and welcomes visitors to Parker Station on Saturdays.
Julia Stapleton is the editor of the monthly publication Albemarle Soundings at Albemarle Plantation. David Rigby is a spokesperson for the Albemarle Railroad Club and a resident of Albemarle Plantation. This story was reprinted from the October edition of Albemarle Soundings.