Jayapal and lawmakers release anti-monopoly agenda for "a stronger online economy: opportunity, innovation, choice"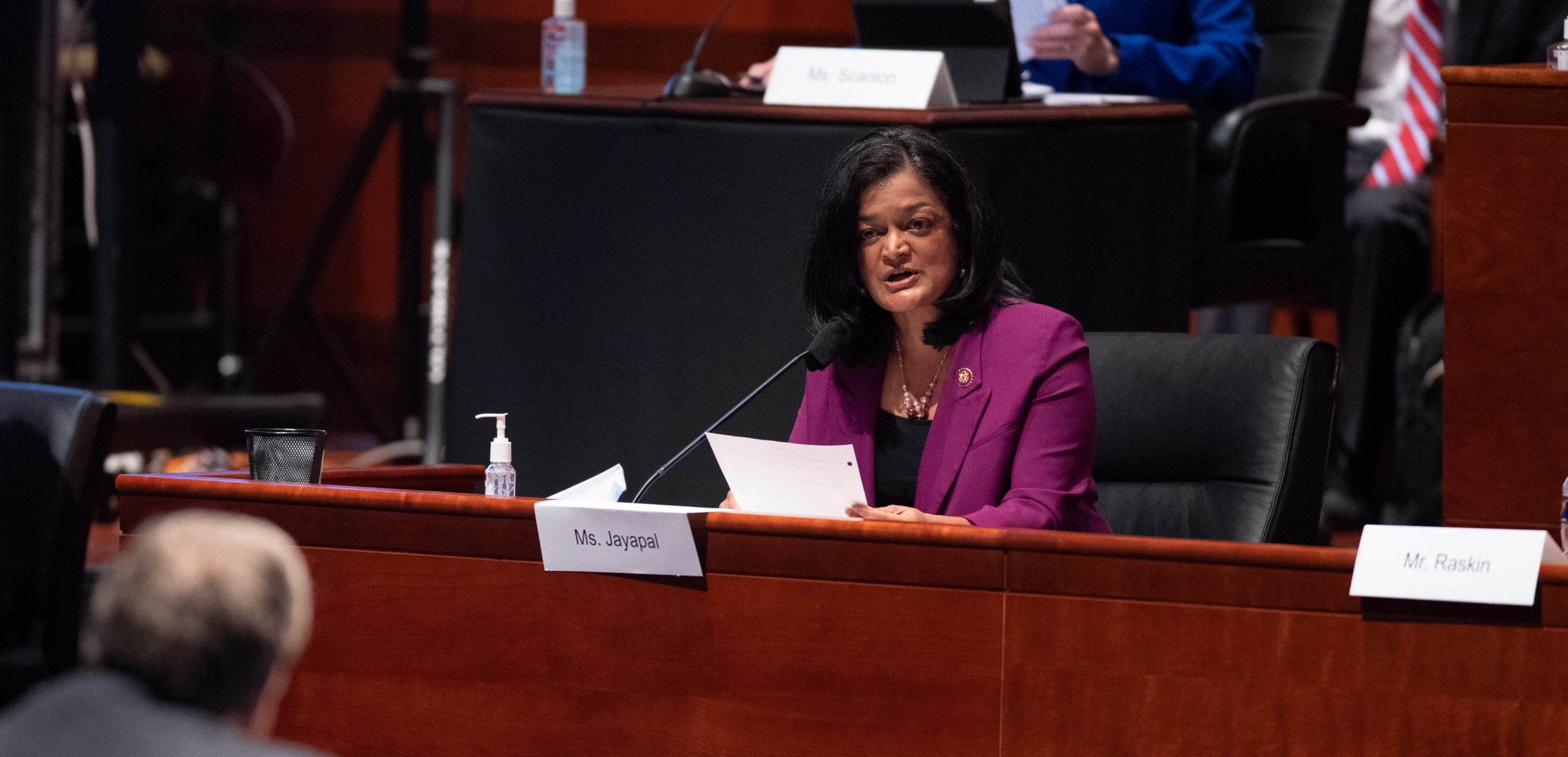 Biparty legislation will restore competition in the digital market and curb the monopoly practices of the biggest tech platforms
WASHINGTON – United States Representative Pramila Jayapal (WA-07), Deputy Chair of the House Antitrust Subcommittee, joined lawmakers today in announcing their bipartisan legislative agenda to expand opportunities for consumers, workers, and small business owners by holding unregulated big tech monopolies accountable for competitive anti-conduct.
"A Stronger Online Economy: Opportunity, Innovation, Choice" consists of five bipartisan bills drafted by lawmakers on the antitrust subcommittee, who last year completed a 16-month investigation into the state of the competition in the digital market and the unregulated power wielded by Amazon. , Apple, Facebook and Google.
"Big Tech's self-regulation is not only blatantly ineffective, it also comes to the direct detriment of workers, consumers, small businesses, our local communities and the free press." mentionned Deputy Chair of the House Antitrust Subcommittee Pramila Jayapal. "From Amazon and Facebook to Google and Apple, it's clear these unregulated tech giants have grown too big to care and too powerful to put people before profits. By reaffirming the power of Congress, our historic bipartisan bills limit anti-competitive behavior, prevent monopoly practices, and restore fairness and competition while finally leveling the playing field and allowing innovation to flourish. "
"The American people sent us to Washington to get things done. Nothing is more important than ensuring that every American has the opportunity to move forward ", said President Cicillin. "Right now, unregulated technology monopolies have too much power over our economy. They are in a unique position to pick winners and losers, destroy small businesses, raise consumer prices and put people out of work. Our program will level the playing field and ensure that the richest and most powerful tech monopolies play by the same rules as the rest of us. "
"Big Tech has abused its dominance in the market to crush its competitors, censor speech and control the way we see and understand the world," said Rep. Buck. "Apple, Amazon, Facebook and Google have prioritized power over innovation and hurt American businesses and consumers in the process. These companies have maintained monopoly power in the online marketplace by resorting to various anti-competitive behaviors to stifle competition. This legislation breaks Big Tech's monopoly power to control what Americans see and say online, and fosters an online marketplace that encourages innovation and gives small American businesses a level playing field. Doing nothing is not an option, we must act now.
"The Committee's bipartisan investigation into digital markets revealed overwhelming evidence of anti-competitive behavior that has severely affected consumers and small businesses," said Chairman of the House Judiciary Committee, Jerrold Nadler (NY-10). "I am proud to join my colleagues, again in a bipartisan fashion, in bringing forward a set of laws that will restore competition online and level the playing field for innovators, entrepreneurs and startups. Our actions today to reinvigorate antitrust enforcement will ensure that our laws can finally and effectively meet the challenges of our modern economy. "
"For innovation to thrive in our modern economy, start-ups and small businesses must be able to compete directly with industry giants," said Representative Jeffries. "We also need to ensure that consumers can choose which online platform to frequent without one or two companies cutting out the whole market and removing all choice. The Platform Competition and Opportunity Act will help strengthen the online economy for the benefit of all Americans. "
"In today's digital economy, we need to empower users to choose the services that best meet their needs, while preserving investment and innovation," said Rep. Scanlon. "The ACCESS law opens up digital markets to greater competition, which increases pressure on large online platforms to improve quality, privacy and security. It is high time to expand opportunities for consumers, workers and small businesses by holding big tech monopolies accountable. "
"In America, competition is at the heart of economic growth and innovation, and when businesses engage in anti-competitive tactics, it hurts consumers, entrepreneurs and our ability to compete globally." , said Deputy Neguse. "I am proud to help unveil today's bipartisan legislative agenda for a stronger online economy, a comprehensive package of bills that will expand opportunities for consumers, workers and small businesses by strengthening the enforcing antitrust laws and addressing anti-competitive practices in the digital economy and beyond. . As a former regulator and head of the Colorado Consumer Protection Agency, I know how critical it is that our enforcement agencies have the resources to do their jobs. That's why, as part of today's package, I'm introducing the Merger Filing Fee Modernization Act, a bipartisan law that will update merger filing fees for the first time in over a decade, ensuring that parties to larger mergers pay their fair share; and that consumers do not have to foot the bill for these necessary and long overdue increases in antitrust enforcement budgets. Congress has a vital role to play in ensuring that markets function in a way that benefits consumers, small businesses, innovation and our democracy. Today's legislative action is a crucial first step in this process.
"Big tech has systematically suppressed conservative voices and violated consumer privacy," said Rep. Gooden. "We must stop their destructive behavior and preserve the constitutional rights of all Americans. "
"There is no doubt that Big Tech platforms are fueled by massive treasures of user data, over which consumers do not have significant control. Americans deserve to have more ownership over their personal information with the ability to seamlessly transfer that data between the platforms of their choice, "added Representative Owens. "I am proud to join Representative Buck in taking action to put consumers back in the driver's seat, reduce the runaway power of Big Tech, and level the playing field for small platforms in the marketplace."
"The filing fees for large mergers have not changed for 20 years, but merger activity, especially in the technology arena, is at or near an all time high," said Rep. Roy. "As we assess the changes to our antitrust laws to adapt to a new market, an obvious first step is to fully apply our existing antitrust tools by providing regulators with the resources they need to take on companies with thousands billions of capital. I am proud to co-sponsor the Merger Filing Fee Modernization Act to level the playing field. "
Bills introduced today will be referred to the House Judiciary Committee.